Kurd One TV - Independent Kurdish Satellite Channel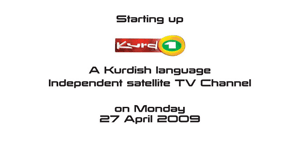 Kurd1, authorised by the French Higher Audiovisual Council (CSA) is an independent and non-political TV channel whose calling is educative and cultural. It is intended for the 35 to 40 million Kurds of the Near East and the European diaspora.
An independent and civic initiative, Kurd1 aims at promoting, in the Kurdish population, the universal values of democracy, human Rights and secularism.
Broadcasting in the Kurdish language, in an audiovisual scene that is, today, fragmentary and politicised, Kurd1 wants to innovate at once by its tone, by the quality of its programmes and its determination to be different, diversified and accessible to all, over and above all political divisions, borders or regional idiosyncrasies.
As from 17.00 (5.00 p.m.) Paris time, on Monday 27 April 2009, Kurd1 will offer its viewers a daily 8 hour programme from Monday to Friday and about 20 hours a day on Saturdays and Sundays. Kurd1 plans to broadcast continuously round the clock as from September 2009.
Kurd1 will give considerable space in its programming to news, to programmes for young people, to the cinema and to sport. Several agreements have already been made with 20th Century Fox and Granada International to acquire broadcasting rights. Kurd1 also enjoys the support of Canal France International (CFI), of Mediatoon International. Nevertheless, Kurd1 produces a substantial part of its programmes itself.
Kurd1 is broadcast from Eutelsat's Hot Bird 13° East satellite (Frequency 12.45/Horizontal). The Registered Office as well as the principal means of production and broadcasting of Kurd1 are in Paris. It also has studios in Iraqi Kurdistan (Irbil) and cooperates with independent production companies located in Turkey, Germany and Sweden.
Presided by Kendal Nezan, the Kurd1 team is made up of Kurdish professionals and European Advisors directed by Michel Thoulouze.
Financed by private Kurdish capital, Kurd1 is supported by the principal socio-cultural organisations of the Kurdish diaspora, including the Kurdish Institute of Paris as well as institutions of Iraqi Kurdistan.


Presided by: Kendal Nezan
5, rue de Castiglione, 75001 Paris
Tel: + 33 (0) 1 45 21 66 03 - Fax: : + 33 (0) 1 53 14 27 08
info@kurd1.com www.kurd1.com

Press contacts : Rus,en Werdî : 01 48 24 64 64
Programmes









Programmes
Frequencies
NILESAT
10930 H, SR 27500, FEC ¾ (Atlantic Bird 4A)
EUROBIRD 9A (9°Est)
11938 H, SR 27500, FEC ¾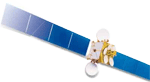 On the Box
NeufBOX
Channel : 612
FreeBOX
Channel : 649